Day 6 – Shap to Kirkby Stephen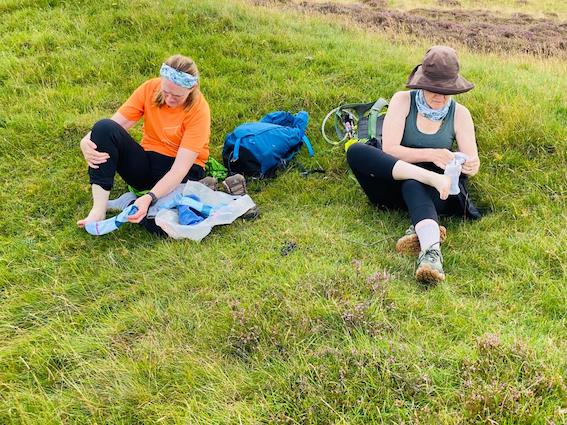 Ok this is tough! Took the decision to skip 8 miles today and start in Orton rather than Shap. I think we were all prepared for aching legs and thanks to Compeed reasonably well prepared for blisters but not feet that feel like you are stepping on bruises with every step. The paths over The Lake District were so stoney and hard! 12 miles today was doable, I don't think any of us would have managed 20 so good decision. Tomorrow we have a day off so hoping by Sunday our feet will feel much better. So far the paths in the Yorkshire Dales have been much softer to walk on! Nik met an ex race horse called Hugo.
A big thank you to our taxi driver this morning who happily changed our drop off point to Orton, even though he had a pick up in Shap. Also the staff in The Black Bull in Nateby where we are staying tonight have been awesome! They serve raspberry gin in proper glasses with loads of fruit so David and Susan are in heaven. Liz feels like she has returned to civilisation with a latte! They are also letting us use their laundry facilities to save us carrying everything to the launderette. We are meeting 3 of our fellow Coast-to-Coast walkers for an Indian later on – I think David is lacking male company :-).
Rasha is still not able to walk but has been spending time with a family friend and today visited Orton. Orton has a lovely church and more importantly a chocolate factory :-). Here are some photos from her day.
If you would like to see our Strava data, this can be found via our Just Giving page at https://www.justgiving.com/fundraising/walkacrossbritain